Fabric options
There are many thousands of options for manufacturing a fabric bag. From standard cotton, Fairtrade organic cotton and recycled cotton to synthetics such as vegan leather, jelly PVC and RPET. This fabric can also be woven, non-woven, knitted or netting. Next there are weights of fabric to consider. If you're not sure where to start or seen something you like, you can send us a photo and we'll be able to identify it for you.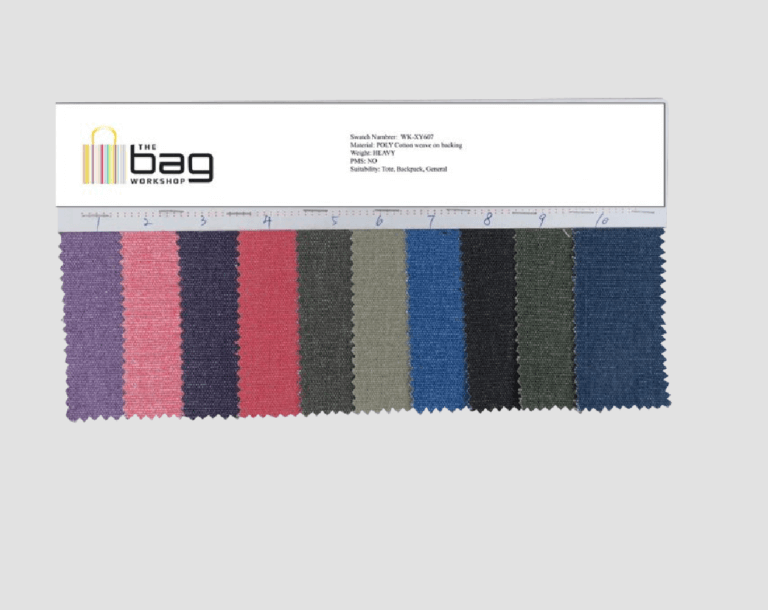 Fabric types for custom bags
There are thousands of fabrics available to make your bag. Bag fabric can be woven, non-woven, knitted or netting. Leather, PU leather, jelly PVC or even tarpaulin. Take a look through our catalogue of swatches and if there is something that takes your fancy, we can lend you bag fabric sample to see if it feels like it looks. It's interesting to note that most fabrics come in numerous weights. Fabric weight is the outcome of how the fabric has been woven, it's finish and often the fibre type. You'll see that we have swatches of bag fabric with a short description of what the fabric is and its suitability for a bag style. If you don't see what you are looking for – do ask us. We will be able to make recommendations.
Fabric weights in GSM and OZ
GSM is a metric measurement meaning grams per square metre- it is how much 1 square metre of fabric weighs and the higher the GSM number the denser the fabric will be. Ounce per square yard (oz/sq2) is the imperial measurement which is also used and what we use at . A lightweight fabric is typically between 30- 150 GSM, medium weight 150-350 GSM and heavyweight 350+ GSM, such as our clear window PVC (640 GSM), although this can vary depending on the type of fabric.
If this is all a bit confusing, give us a call! We do this every day and are here to help with choosing your bag fabric, bag style and finishing options.