Bespoke Bag personalisation options
Bag construction
Construction of the bag is considered at the design stage when the purpose of the bag is determined. What will be carried in the bag will affect how the bag is made. If a laptop is to be carried in the bag, then the construction will include padding to protect the contents. If it's a large beach bag for carrying beach essentials including a large towel, swimming costume, packed lunch and a change of clothes then the bag will need to be bigger than a tote bag that is two panels sewn together and will need a gusset (also called a base) as well as side panels to open up the bag to allow it to carry many bulky items. During production of the bag, there are several steps prior to the bag being assembled.
Bag labels or bag badges
Labels for bags can add value to a bag and offers more branding estate. It can be your logo or icon on a woven label, PU badge, printed tape or and embroidered badge. Or perhaps you might like your bag label to be a metal button and embossed. You might also add in care label to allow the user to look after their product. Once you have decided what kind of label you would like to enhance your bag, you will need to decide where it will be sewn in. There are multiple fold options, you can see below the various options.
Woven labels for bag
There are a huge range of materials, finishes and qualities for a woven label. The most common material for a woven label is taffeta, satin and cotton. It is possible to weave up to 12 colours to a label and there are various finishing options for folding, sewing, and centring the label. Woven labels for bags work best when it is a simple design such as a logo and icon, clear text, or images. A woven label adds a premium finish to your bag and our woven labels have excellent depth of detail. The number of finishes we can offer means you can find something to suit your brand.
Enamel badges for bag
Further personalisation options for bags include metal badges for bags. Bespoke bags need not be limited to fabric labels. It is possible to include metalwork to your bag in the form of buckles, rivets, feet and badges. For such a great upgrade to your bag, it is relatively inexpensive and offers a premium feel to any style of bag. Embossed or debossed, an enamel badge can be sewn in and used layered up with canvas, leather or PU.
Printed labels for bags
Personalisation options include printed labels can be more complex as a digital print will show the finer detail. Care labels are usually printed in this way, but a brand label can be printed and be as superior as a woven label if the design is great. We offer a range of fabric options for a printed label for a bag. They include: – polyester satin (anti-fray and standard) – taffeta polyester – acetate satin – natural coated cotton We can print 1-4 colours as well as print on the front and reverse of the label. Sizes vary according to your specification and finishes include labels supplied on the roll, cut, and fused singly or cut and centre folded.
Care labels for bags
Care labels are usually printed and sewn on the inside of the bag. They will advise how to care for your bag and anything else you might like on it such as where the bag originates from and the fabric it is made from.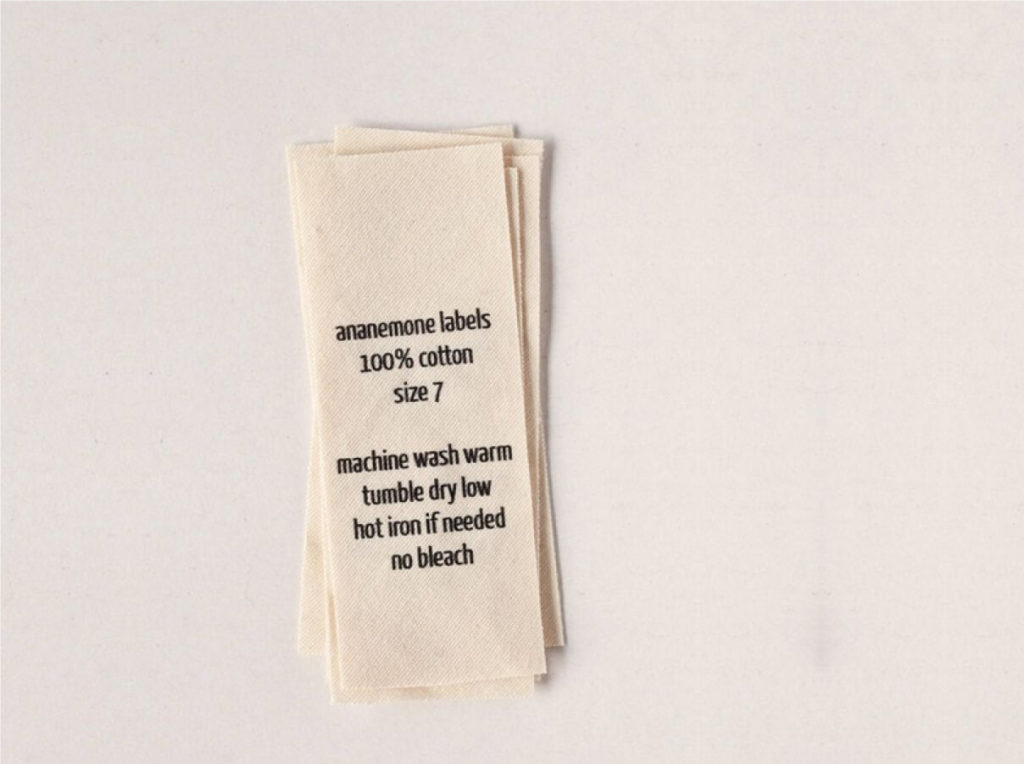 Bag label folds
Personalised labels for bags can be folded and sewn into a seam with a various fold methods. The logo or artwork will usually determine the best method for a label fold. A personalised single cut label will be off a reel and sewn onto a flat panel with blanket stitched or by machine along the edges (think about labelling children's clothing with name tags, it is this style of label), it can also be sewn over the top hem of a bag when used as a branding logo label. An end fold is sewn in on the inside of the label and is sewn on at two edges only and is like a hoop. The Manhattan fold label for a bag is sewn in the side seam of a bag either inside or outside of the bag and will be woven or printed on both sides of the label. Usually used for a branding label on the outside of the bag or care label on the inside. The mitre fold label is similar to the end fold and is only sewn in at the two ends of the label and not along the sides of it.
Swing tags for bag
Swing tags or hang tags for bags add value and they can be printed or cut to shape to suit your brand. There are multiple finishes for swing tags. They include: drilled holes, metal eyelets, square corners, round corners, diagonal corners and multiple string options. Rustic string, soft string, wax cord, elastic loop, ball chain, security loop (plastic).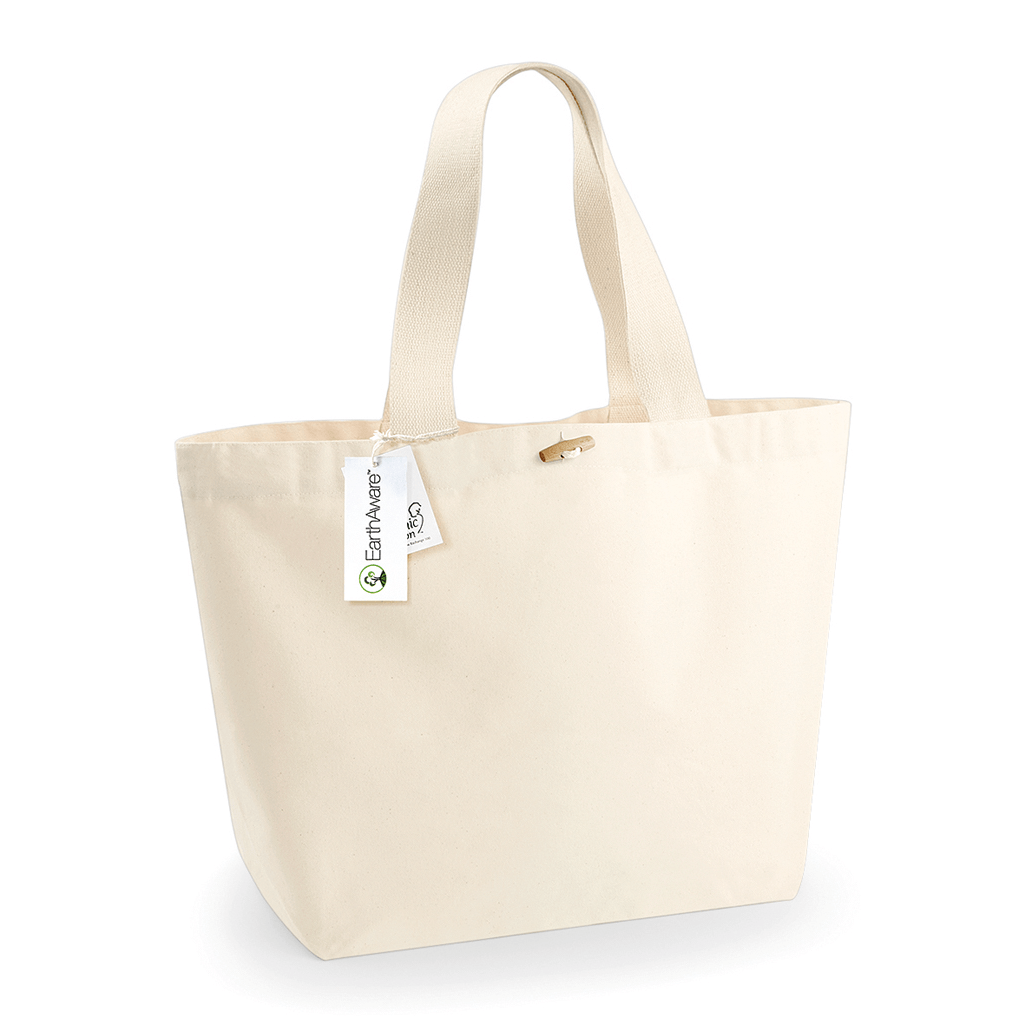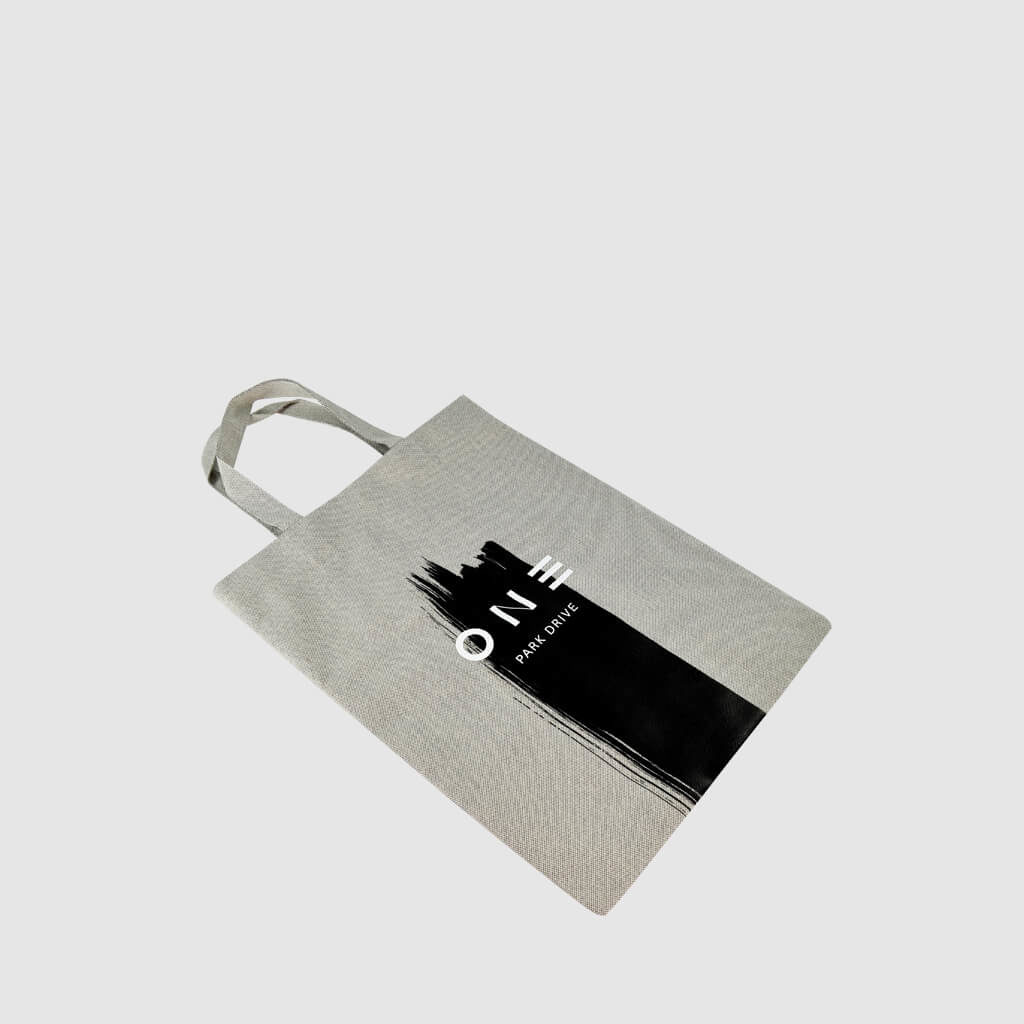 Decoration
Bespoke bags are not limited to screen printing and embroidery within a set area on the bag. There are multiple print options for tailor-made bags, and they include screen printing, foiling, pearl & glitter, digital print, heat transfer, metallic print, puff print and plastisol.
We ask that you send us your artwork before we can quote so that we can determine the best print method for your artwork. Different techniques are employed for different designs.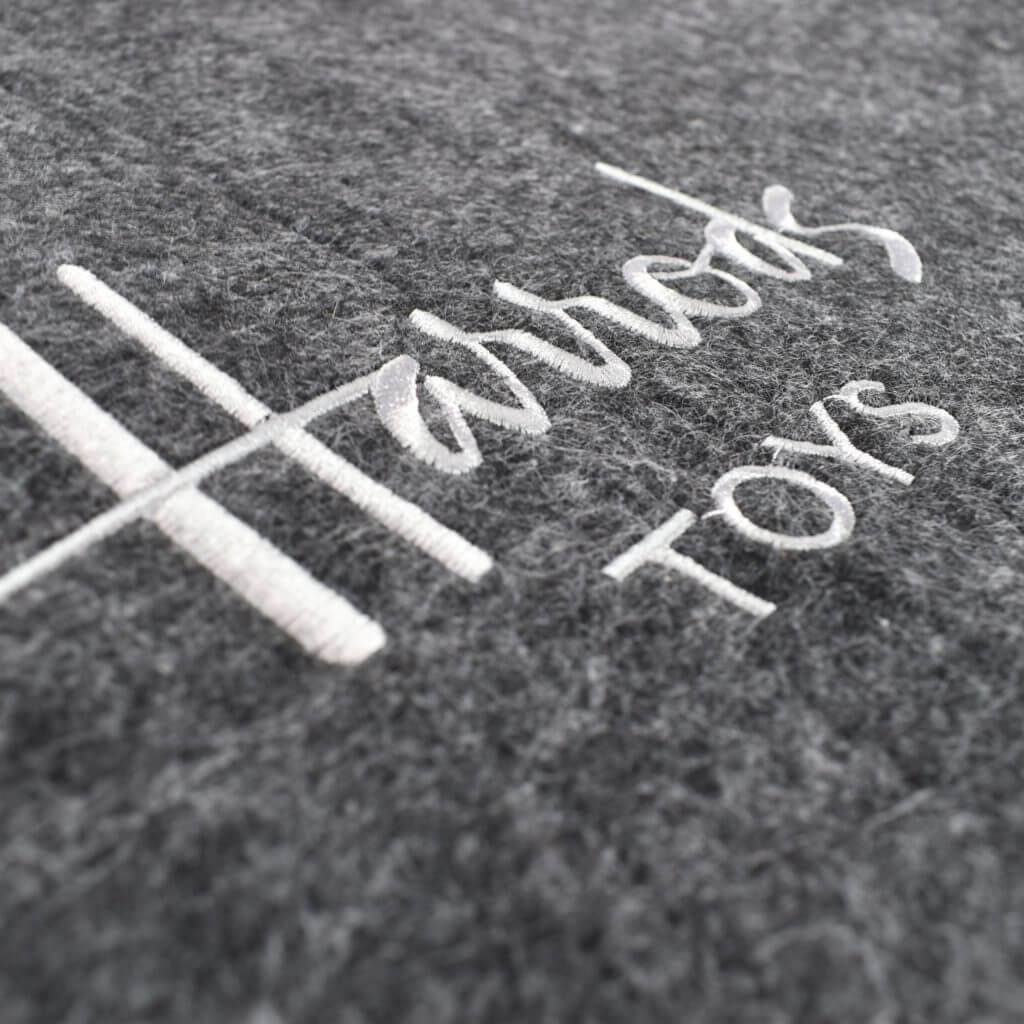 Embroidery
Embroidery is the decoration of fabric using a needle to apply thread using stitching techniques called chain stitch, blanket stitch, running stitch, satin stitch, or cross stitch. Embroidery on bags can be made in a vast range of thread colours and can be Pantone matched.
Embroidery on the body of the bag, the handles, or pockets are options and is usually done with a sewing machine.
Applique
Choosing appliqué for bags is a great way to make an individual bag. Embroidered patches, printed cottons, felt – they are just some of the options to create an applique. They can be attached to your bag for a unique look. A great solution for consistency across various products and for an unusual finish. Appliqué is ornamental or decorative artwork where pieces of fabric are placed in different shapes and patterns and sewn onto fabric to create a pattern or picture. The pieces of fabric usually have their edges folded under and then are attached with a sewing machine or by hand, dependant on the design with the following stiches. Straight stitches are individual stitches made without crossing or looping the thread and usually 20mm in from the edge. Satin stitches are all around and overlapping the edge of the fabric which may be glued or straight stitched in position first to ensure accurate positioning and a neat edge. Reverse appliqué is when the attached fabric is sewn together, then cut away where another material covers it on top, before being sewn down onto the edges of the original material.
Linings for bags
Choosing a lining for a bag can be for two reasons. Lining a bag for practical reasons so the inside of the bag can be kept clean or secondly for aesthetic purposes. It is possible to print linings, dye fabric for a bag lining or use a fabric that is very different to the outside of the bag. A printed lining my have an interesting design or be more corporate and use the brand logo. Dying the internal lining might ensure the bag is consistently made from the same cotton for example but the colour is different for a stunning effect. It is possible to have a heavier weight canvas for the external panels of the bag and a lighter weight fabric on the inside which can include internal pockets within the lining. Using thermal fabric for linings are a practical choice for cool bags which are designed to keep the contents cool. It is also possible to use a durable PVC on the inside of the bag which can be wiped clean which would be practical for lunchboxes and picnic coolers. Waterproof linings in bags are useful for shopping bags and a bag-for-life which often carries food products and can prevent spillages from escaping the bag.
Fabric for bags
Choosing the right fabric for your bag is usually determined by the purpose of your bag. Questions you may be asked at the planning stage of your bag project will be: 'Should the bag ensure multiple washes?' and 'Will the bag be required to carry heavy items of over 15kg?' or 'Does the bag need to fold away when not in use?'
Other criteria for choosing fabric may be colour or type. Should the fabric be Pantone matched? Cotton, canvas, and synthetics can be colour matched. Your preference for Fairtrade cotton maybe that your brand takes your responsibility to the environment very seriously and this is a fair and credible choice. Fabric choices
Fabric weight can be measured using gsm or oz. Grams per square metre is the metric measurement of fabric weight and oz is ounces, the imperial measurement. The higher the gsm or oz then the heavier or thicker the fabric. The heavier the fabric then the more expensive it is. So when quoting on our bag project in the initial stages, we will ask what your budget is. Not so we spend it all but so we recommend the fabric weight you can have for your project. You'll also be advised that if you want to move your bag up a grade to make it more premium, increasing the weight of the fabric could be the way forward. Same goes for taking the price down. If you love everything about the bag you've designed but can't quite afford it in that capacity, taking the weight of the fabric down a notch or two could be the answer. be the way forward. Same goes for taking the price down. If you love everything about the bag you've designed but can't quite afford it in that capacity, taking the weight of the fabric down a notch or two could be the answer.
Handles for bags
A handle can instantly uplift a bag and take it from being a standard tote that has handles in the same fabric as the body of the bag – these are known as self-handles, to a more interesting bag. A cotton webbed handle is an easy and inexpensive switch to improve the look of a bag. Cotton webbing comes in a variety of stock colours but can also be Pantone matched as well as several widths. Bag handle upgrades can include vegan leather (PU leather) or real leather. PU leather is available in a few colours and can also be dyed. Leather or PU leather handles can compliment badges or decorations on the bag for a premium uplift. Other options for bag handles can include rope-style for a drawcord closure and backpack straps or perhaps a velvet or satin ribbon for delicate handles. The number of straps should also be considered. Not to be limited by two handles for any style of bag or one handle for an across-body-style of bag. A bag can include any number of straps to suit its function. A shoulder carry bag might also include a shorter handle for carrying by hand. A rucksack may use the usual back carry handles but also include a longer strap to allow the bag to be carried on the shoulder or shorter handles for a hand carry.
Bag pockets
Pocket designs vary dependant on their purpose. They can be sewn into the inside of a bag or the outside, on a flap or within the lining of a bag. They can be decorated, plain or use an alternative fabric to suit the design of the bag. Pockets may also be lined themselves or include solar powered charging stations for travel bags. Examples of pocket designs are outlined below. They include a patch pocket that is attached on the outside of a piece of fabric and items can be slipped into it but has no closure. A flap pocket will be included in a bag to protect the contents of the pocket. A buttoned flap pocket in a bag will prevent the contents from falling out. This type of pocket may also include a box pleat to allow more to fit in the pocket. Slit pockets may be included in the lining of a bag, it could have arrowhead reinforcements to prevent ripping when the pocket is being used.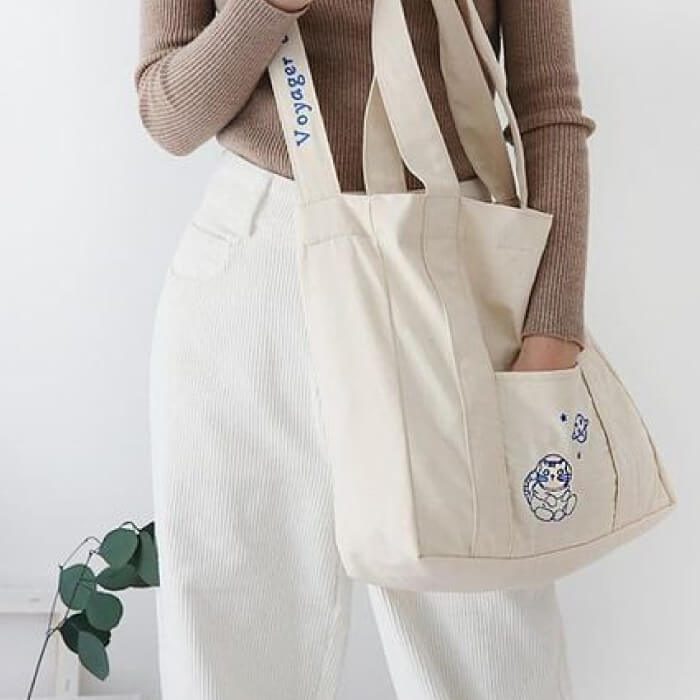 Bag size
Choosing fasteners, feet and bottoms for bags, as other elements of the bag will be, for decoration or function and can take your bag from average to fabulous. The closure on a bag can be a zip, popper, button, strap and buckle, snap buttons, magnetic or drawstring. If you're choosing a zip as a distinct personalisation option, the choice is vast. Bag zips can be of varying lengths and colours. The zip teeth can be rose gold, antique brass, gold plated, silver, plastic coloured or many other variations. The zip pulls can be in many shapes and sizes as well as be branded with embossing or print. Zip tape – the fabric part of the zip, that is sewn into the bag, can be Pantone matched to blend in with the fabric of the bag or can be a contrast colour to make a statement. Strap buckles can be metal or plastic and just like zip pulls can be branded with embossing or print. Metal or plastic rivets can add interest and detail to a bag for an instant upgrade in style or be more functional and hold together the construction of a bag. Bag feet may be essential for luggage or travel bags or a D clip or carabiner may be required for sport or school bags.
Bag trim
Bag trimming can be internal or external and happens at the seams of a bag. It's a great personalisation option that finishes a bag off with trim that can tidy up the appearance of a bag or offer branding opportunity for a corporate bag as well ensure the finish on your bag is impeccable. Trim can be natural or synthetic, plain, patterned, printed, reflective or fluorescent. Internal seams can be turned over and sewn into the seam, they can be hemmed so there are no raw edges, or they can be cut with pinking shears for a zig zag edge. Seams can also be graded which means trimming raw seam allowances at different widths to ensure the end seam is not bulky. These can include a trim or a different fabric to be overlaid over the seam for a decorative finish. Pantone matched trim on the side of a laptop bag can offer a subtle nod towards company colours. Statement trim can be included to make the bag stand out. Neon colours or reflective fabric can be used to make the bag a piece of safety equipment for cyclists, runners, or school children. Or trim can offer a stylish finish to a bag.