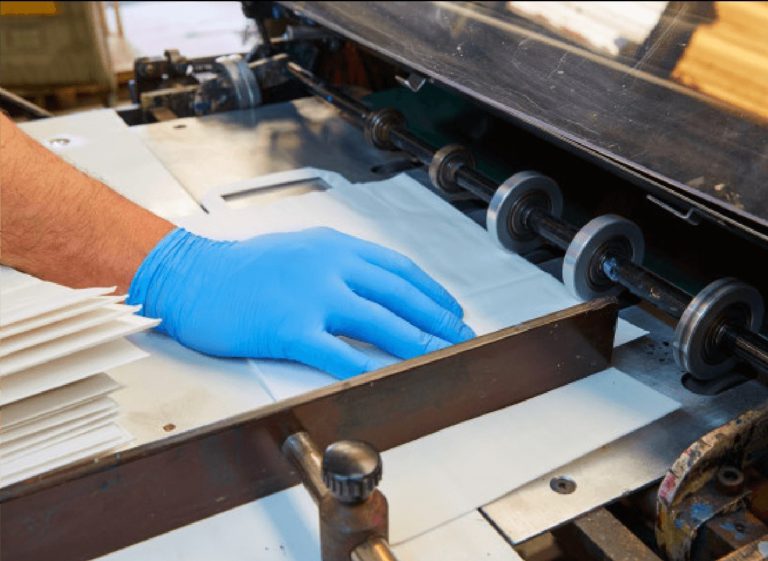 Stock bags for print
You can use this glossary of print methods for bags to help you understand what we offer. All colours are Pantone matched or we match to a colour swatch you provide. We don't use screen shots or photographs to colour match because the colour can vary depending on what device you view it on.
The colour of your bag affects how print is interpreted. Printing on white and natural allows a high quality of print definition. We'll put down a white base layer on a coloured bag for better print reproduction. Printing black and metallic onto coloured bags allows a better interpretation.
We like to be so precise about print, our quality checks take place with magnifying glasses.
Screen printing for bags
Spot :
Spot is the most popular and economic form of print options for bags. Pigment inks are passed through a mesh screen onto the fabric and allowed to dry. The colours appear crisp and vibrant. This technique is best for logos, messages and other artwork with distinctive lines and colours. It works brilliantly on all fabrics and is effective and long-lasting.
Process :
A more complex version of the same printing is four colour process printing. The mesh of the screen is finer and only four colours Cyan (C), Magenta (M), Yellow (Y) and Black (K) are used in an overlapping manner to create a print with many colour grades and shades. For the best results, it should be used on light colour fabrics only.
Pearl & Glitter :
Other effects that can be achieved using screens are pearl and glitter printing. The pearl finish gives a great iridescent effect to the colour of your choice. Glitter printing includes print with glitter in it. It can be used to highlight artwork and add some sparkle. This works well with bolder designs and not intricate lines.
Digital print for bags
Digital printing on bags offers clear, precise detail for complicated designs. It takes a digital based image and is applied direct to garment., almost an identical process to printing on paper. It uses micro-sized droplets of ink that are placed onto the fabric, through an inkjet print head. It offers photo quality printing on fabric. It doesn't show brightly on cotton, but if you are working with a poly-cotton blend or polyester fabric, the printing will be superb. This is most expensive print method available.