Pouches / dust bag / drawstring bag / drawcord bag
Published by
Steve Hill
on
April 24, 2018
A guide to making your bespoke dust bag, drawstring bag – pouch or draw cord bag, dust bag, drawstring bag.. There are many names for a bag with a draw cord, we've used them throughout this guide. They include custom made drawstring bag, bespoke draw cord bag, custom dust bag, pouch or product bag.
Creating a simple customised dust bag or drawstring bag can lead to a variety of decisions. To give it its own identity you can choose fabrics, different draw cords to close it, stoppers or 'ends' on the draw cord as well as decorate it with print, embroidery, labels and badges. The list of finishing options is pretty vast so this guide is aimed to help you through those choices.
What's the purpose of your drawstring bag?
Understanding what you need your customised pouch for will help guide the answers to the questions you need to finalise before you can get a price for your own drawstring bag. For instance:
Is it for a leather product so you might need a delicate dust bag for a leather handbag?
Or perhaps you're a gift shop and need packaging for gifts?
Are you a jeweller and need a pretty bespoke drawstring bag for jewellery?
Do you want to gift bottle of wine because you are an estate agent and you give gifts to clients once they have bought a house from you? You will need a longer drawcord bag for a bottle.
Dimensions of your draw cord bag
Start with thinking about what you are going to use your draw cord bag for. It will determine the size the main compartment needs to be. So, take your product, book, gift or food stuff and measure it.You'll need wiggle room to get it in and out of the pouch, so depending on how flexible the item is, add 5mm either side.
This is a rough guide and if you aren't comfortable measuring it, you can send the item to us and we can measure it up for you. Alternatively, send your pouch dimensions to us and we will make suggestions for you.
Next you can think about the cord length. It will need length either side to be pulled to close. You might also want to double the length of the cord so you have two ends either side. See the cord section of this guide for more on this.
Drawstring bags with pre-determined sizes are below.
Fabric for your drawstring bag
Selecting the drawstring bag fabric for your bespoke pouch will depend on your brand and the style you are looking for.
Is it clean and clinical or soft and gentle?
Does it need to be hard wearing or is it to protect a leather product and therefore be light?
Should the fabric display the product and therefore be translucent such as organza?
Organza for a drawstring bag will display a product. It can also be used over another product for a snazzy unusual effect, so you might choose organza fabric over felt. Microfibre pouches are usually used as glasses cases or the lining for a drawstring pouch. You could pad a canvas pouch with a drawstring and then line it with the microfibre so the glasses don't scratch.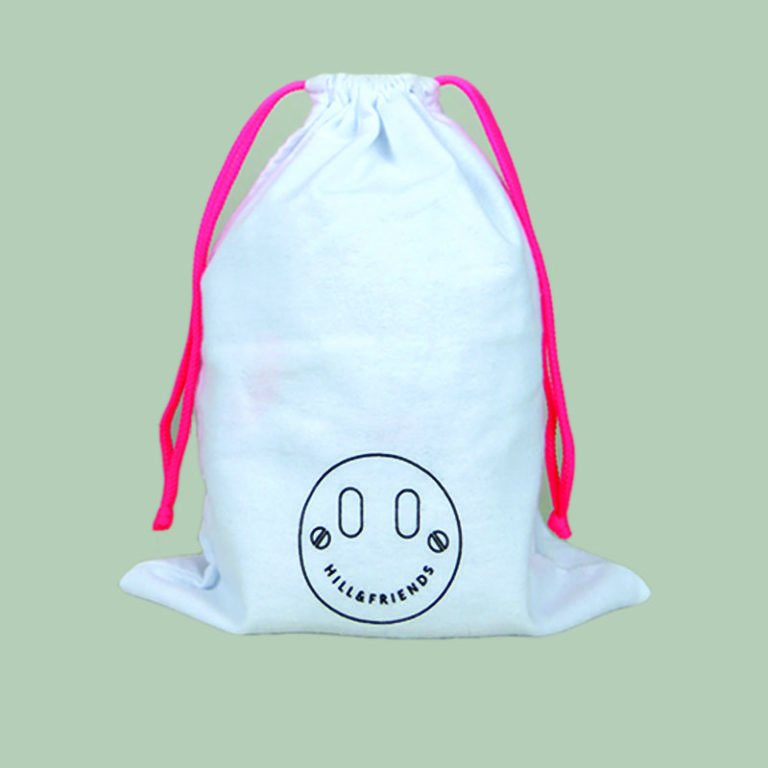 Brushed velvet draw cord bags are often used for gifts and jewellery. There are varying weights of velvet which all have a different effect from light and delicate to a heavier weight which makes the bag feel more premium.
Drill cotton drawstring bags are popular for pyjama cases and clothing items. Often used to gift baby grows with all over print on the drill cotton drawstring to match the clothing gift inside. They can be branded with lovely, simple woven brand labels.
Brushed cotton dust bags are favoured by high-end designer handbags to protect the expensive leather. Dust bags keep light from fading the product inside as well keeping layers of dust from the nooks and crannies of the product. Brushed cotton pouches are also ideal for delicate items such as keeping necklaces and earrings in within a jewellery box to keep them from tarnishing.
Cotton canvas drawstring bags are great for travelling and the hotel industry. Keeping your dirty laundry in a cotton canvas draw cord bag and separated from your clean clothes in your suitcase is very organised and if you are on the road for a week or two, a great idea to keep those smelly socks away from your clean ones!
Hotels use cotton canvas laundry bags for guests to put their laundry in and then hang on the hotel door so it can be discreetly collected and returned. Usually branded with the hotel logo and room number so the wrong clothes don't go back to the wrong room.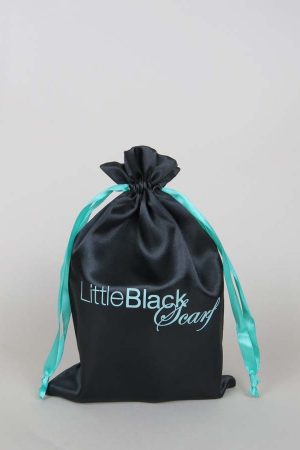 Silk pouches are associated with luxury and you might choose a silk drawstring bag to contain exquisite underwear or gift packaging for a silk dressing gown or other garments.
So, in short – you can choose pretty much anything you like. Have a think about what you want to achieve or something you've seen and liked and we can take it from there.
Cord pulls for your dust bag
Now you've chosen your fabric, you need a cord to close your drawstring bag. You can choose the fabric you made the bag in to create 'self-handles.' This means thin strips of the fabric is cut and sewn tightly to make a cord and is the same colour and feel as the body of the bag.
You can choose a satin, cotton or grosgrain ribbon. You can print a plain ribbon too and use it as the cord for your pouch. You might want a woven cord or string in contrasting colour to your pouch. Or you can Pantone match the drawstring cord. Now you've got to this stage of designing your bespoke dust bag or draw cord bag, you can work out what 'ends' you want on the cord.
Closures for the cord on your drawstring bag
The end of your draw cord can be knotted so it doesn't get pulled through the hem at the top of the bag or you can choose stoppers in a variety of materials to contain the end of the cord and stop it from being pulled through. They can be plastic, metal or beads. It depends on the style you're hoping to achieve and the size they need to be.
Printing your draw cord bag
A custom-made drawcord bag can be printed inside and out and all over. This is also called edge-to-edge printing. We can also foil for a shiny effect or embroider.
If you're choosing a stock drawstring bag from our range, then we can print and embroider only within a print area, but we can do this and do it quickly if you have an event and need them delivering super quick (within a week). A bespoke printed drawstring bag with edge to edge printing and bag printing on the inside can make your bag stand out. Choose it and make a statement. If you've chosen your pouch as an alternative to a plastic bag then this is the opportunity to make it beautiful and more likely for repeated use.
Labels or badges for a drawstring bag
Finally, you need to finish your bag off with your logo or name. If you haven't printed it on, you might want to use it as a branding exercise and use a woven label on a draw cord bag to show the user who made it or give a clue to what's inside. Woven labels for bags for pouches can be in a variety of colours to suit your brand guidelines.
PU or leather badges can lend a distinctive style to a draw cord bag. They can be embossed with a logo for a premium feel to the bag. Perfect for high end products and brands. PU badges can be in a number of colours or Pantone matched to contrast the fabric of the bag or to suit your brand colours.
Got any questions about how to start a bag manufacturing project? Then take a look here for more advice. Want to talk to us and ask some questions about your bag project? Give us a call and speak to Steve, Joelle, Charlotte or Jo in the office +44 (0)1225 667979. We're based in beautiful Bath and have years of experience in making bags with global bag manufacturing facilities.