How to Create Brand Style Guidelines
Published by
Steve Hill
on
May 30, 2019
Brand style guidelines are a working document used to help build and identify your brand, ensuring consistency in the look and feel of all your marketing and promotional assets from your logo to your website's colour palette. Some guidelines go even further than this and include your brand's story, voice and the language that should be used to communicate who and what your company is.
Having style guidelines helps everyone who works on your brand, from web designers to social media managers to videographers, deliver a consistent look and feel.
Develop your Brand Story
A brand story wraps your company's mission, vision and core values in one neat little package. It's more than just the history of your brand; it's a narrative that encompasses both the facts about your brand and the feelings it evokes – it needs to inspire an emotional reaction.
Outdoor apparel company The North Face has a great brand story, which explains the company's origins, and connects it to active people who love adventure. The North Face's strapline is 'Never Stop Exploring', and they use their brand story to communicate this effectively.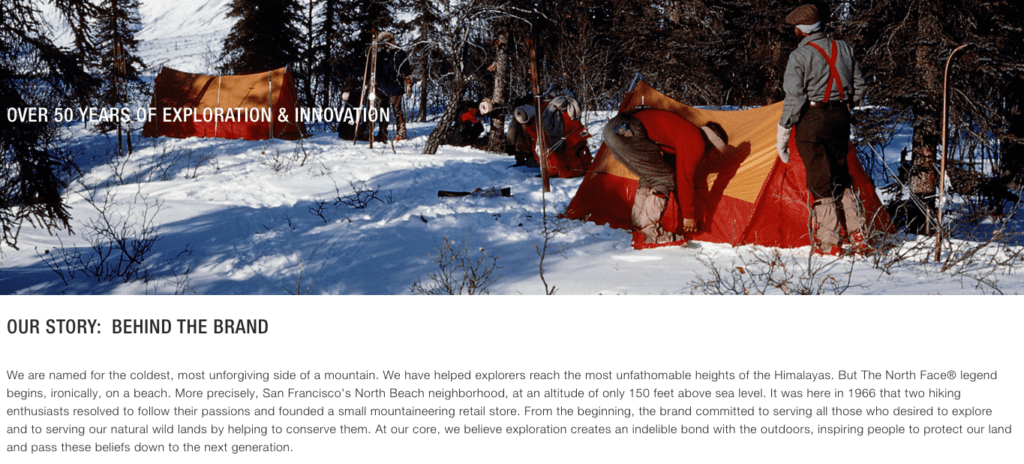 Image source : https://www.thenorthface.com/about-us/our-story.html
Create a Memorable Logo and Rules to go with it
Once you know the story that you want your brand to tell, everything else about your brand needs to reinforce those messages, starting with your logo. Your logo needs to be instantly recognisable as yours and to help with this you should establish a set of rules for exactly how your logo can be used.
For example specifying colourways, exclusion zones and sizes, because if your logo is squeezed out of shape, crammed into a corner or produced in the wrong colour, the integrity of your carefully developed branding is at risk. Spotify provides very clear guidelines on this:
Colourways demonstrate all acceptable iterations of colour for the logo.

Image source : https://developer.spotify.com/branding-guidelines/
Exclusion zones create space around a logo to ensure it maintains visual prominence and isn't crowded out by other text or pictures:

Image source : https://developer.spotify.com/branding-guidelines/
Minimum size guides make sure the logo remains legible:

Image source : https://developer.spotify.com/branding-guidelines/
Including clear rules like this in your brand style guide will ensure that your logo is always presented in the best possible way. Consistent branding is crucial for building awareness of your company, so it's important that your logo is always used in exactly the way you specify.
Decide on your Brand's Core Colour Palette
Your style guide should include a palette of colours that can be used as part of your branding. Your brand colours should exist in two parts: primary colours, which are usually the ones found in your logo, and secondary colours, which add depth to your brand's colour palette and may be used across other visual assets such as your website or advertising.
Take, for example, the Co-op, who recently rebranded: they have a primary palette of three colours, complete with RGB values and CMYK colour codes: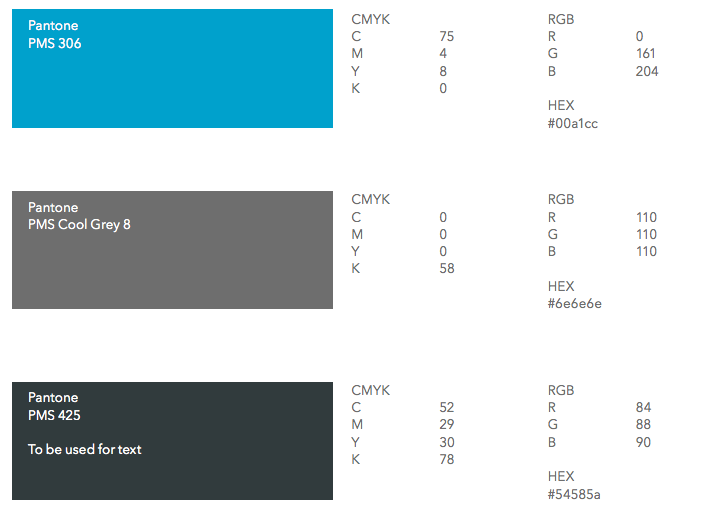 Image source : https://coop-design-system.herokuapp.com//assets.html
They have also added a secondary palette that they say 'gives us the opportunity to expand the ways in which the Co-op brand spirit is represented'.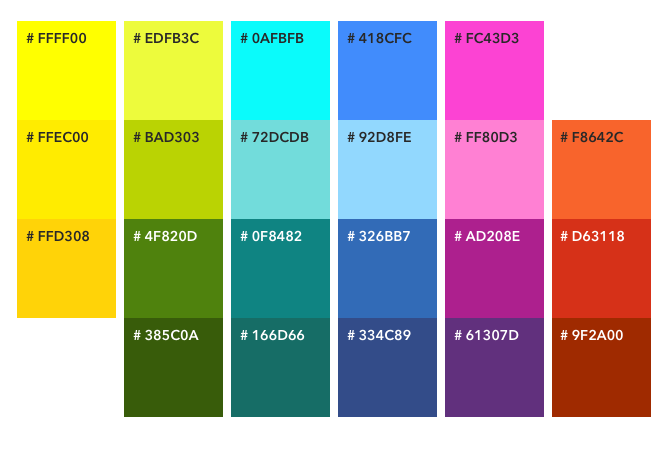 Image source : https://digitalblog.coop.co.uk/2018/01/22/introducing-our-secondary-colour-palette/
Defining your colour palette in this way allows for more scope and flexibility in the design process whilst making sure your visuals always remain on brand.
Choose Suitable Typography
Typography refers to the font, or typeface, that you choose for your brand identity. Your brand style guidelines need to clearly spell out which font families can be used for your brand, and in what contexts and for what specific purposes. The typography you use should go unnoticed if you've chosen it well, but it will stick out like a sore thumb if you haven't.
Ensuring that your typography is applied consistently across all of your assets will help make your branding strong and memorable. LinkedIn use Source Sans as their primary type family to communicate key brand messages in display copy and headlines.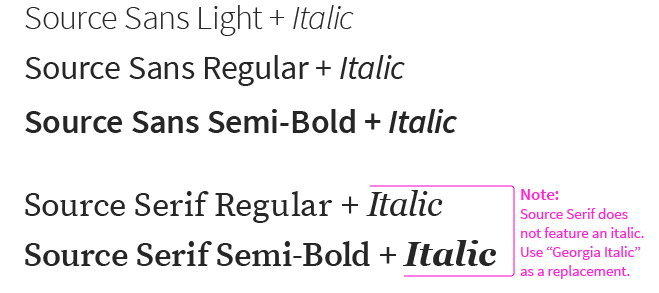 Image source : https://brand.linkedin.com/visual-identity/typography
LinkedIn used Arial as a secondary typeface that should be used when Source Sans is not available, and they specify George Italics as their 'voice' font, which is used exclusively for customer testimonials and member quotes. It may not be necessary for your company to go beyond two or three typefaces for your brand style guidelines, but being clear about exactly what those typefaces are will ensure your brand style remains consistent.
Find your Brand Voice
The voice of your brand is the personality and emotions that are conveyed by your company's communications, and encompasses the specific words and language you use across all of your branding. The most successful companies have a strong sense of personality and a clear sense of purpose, which is consistently delivered across all channels.
When branding your company, spend some time thinking about a tone of voice that will demonstrate the personality of your brand and resonate with your audience. Once you've figured it out, including it in your brand style guide will make sure it consistently replicated across all assets, whether it's website copy or a voiceover for a marketing video. Mailchimp has done a great job of simply explaining their voice, using the type of language that helps to convey it.
Image source : https://styleguide.mailchimp.com/voice-and-tone/
The takeaway from all of this is that you should never send out mixed messages when it comes to your brand. Creating brand style guidelines will prevent this from ever happening by giving clear instructions on how your brand should be represented, through brand story, logo, colour palettes, typography and tone of voice.
Your brand style guidelines shouldn't be allowed to stagnate, but should be added to and developed as your company grows or you launch new products. Using them as a baseline when designing for your brand, or giving them to creative you are employing to design for you, will ensure that you maintain a cohesive visual voice and gain the trust of your customers.