How to Successfully Rebrand Your Business (And Retain Customers)

Published by
Steve Hill
on
February 27, 2018
There comes a point in a brand's life when rebranding becomes necessary. However, it's not as easy as slapping on a new logo, changing your website colours, and adding a witty tagline into the mix.
When done poorly, it would backfire and you risk losing your customers.
Take, for example, the backlash Tropicana received when they replaced their packaging design in 2009.
In the company's bid to evolve the brand with a more modern look, Tropicana removed the iconic straw-in-an-orange image and replaced it with a glass of OJ.
Despite an investment of $35 million (£25 million) into advertising campaigns, their consumers could not identify with the new packaging design. Criticisms ran rampant on social media. Two months later, sales dropped by 20%. In the end, the entire rebranding initiative cost Tropicana more than $50 million (£36 million). But, when done well, rebranding can boost your bottom-line and open your brand up to a whole new customer base.
Rebranding Risks
As you can see with what happened to Tropicana, rebranding does come with risks to bear under consideration.
Including:
Overcoming your past reputation – Your customers may not like the change and struggle to acclimatise to your new brand.
Resistance from your team and stakeholders – Change is not always easily accepted, even within your own ranks. Stakeholders and your employees are also prone to rejecting your new brand identity. Worse, they can influence others into doing the same.
Getting your identity right – Creating a brand new identity means you have to toe the line between your business goals and the needs of your audience. If you don't get it right, you risk losing a lot of resources and your current customers.
Should You Rebrand?
Rebranding aims to undo your previous brand identity and wipe the slate clean. Whilst this will work best for newer businesses that haven't yet established their reputation, it can also be successful for established businesses; providing you carefully evaluate your goals and strategize accordingly. Ultimately, rebranding can have a number of benefits for businesses both new and established.
Reach a new demographic
When brands have been around for a long time, it's easy for the consumers to confine you in a box. For instance, you may be remembered for an advertising campaign you launched many years ago or be associated with a particular demographic. Old Spice is a perfect example of a brand that broke free from its previous confinement.
To dissociate itself from its outdated image and engage the younger market, Old Spice rolled out a humorous campaign during the 2010 Super Bowl. With the tagline "Smell like a man, man", the brand repositioned itself as desirable for younger men—not just for grandfathers and dads.
And with an estimated 106.5 million people tuning into the Super Bowl in 2010, the time slot opened themselves up to a wide new demographic.
Repair a reputation
Source: https://en.wikipedia.org/wiki/Super_Size_Me
Bad publicity hurts brands of all sizes. Social media also makes it easier for negative sentiment to go viral, and the fact that it stays online forever could damage your brand in the long run. Following the 2004 documentary Super Size Me, McDonald's sales dropped by 2.6% in the US and 8.3% in Asia and Africa.
In the course of 18 months after the documentary, the fast-food giant tweaked its menu (added organic greens and salads), made sure their stores are cleaner, remodelled their restaurants, and spent $2 billion (£1.4 billion) per year in advertising. McDonald's poured their efforts into regaining the trust of their key audience, even working with mom bloggers and launching social media campaigns to change the public's perception of the store.
Reclaim brand identity
A brand's reputation can sometimes be damaged because of a negative association with a particular demographic. Luxury house Burberry is one of the best case studies of a brand successfully reclaiming their identity. In the late 90s to early 2000s, the A-list fashion line was associated with "chav culture". This then resulted in a drop in their UK sales.
Burberry, however, turned the situation around by adopting a new motto "Prorsum" ("forwards" in English), hiring supermodel Kate Moss as the brand's new face, and aggressively moving into the digital space. By taking control of the narrative around the brand, Burberry was able to change the public's negative perception and reclaim their place as one of the UK's most treasured fashion houses.
Boost sales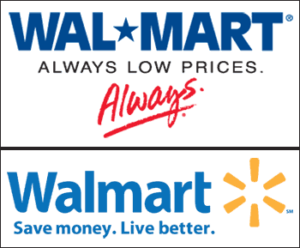 Source: https://imcclass.com/2012/09/20/walmart-a-rebranding-genius/
Rebranding can also help you gain a competitive advantage and get a bigger slice of the market. Take, for example, Walmart's rebranding initiative. A little over a decade ago, Walmart was only known for selling cheap brands. To position itself for growth, the retail giant threw away its old tagline "Always Low Prices" and changed it to "Save Money, Live Better."
This new tagline shifted the focus from selling low-cost products to highlighting the emotional benefit of shopping at Walmart. By recentering their narrative around how their low prices will improve customer lives, rather than just being the cheapest, Walmart increased their value and changed their 'dollar store' reputation. Walmart also changed its interiors, signage, and merchandising display concepts—all of which provided a better in-store experience for shoppers.By 2010, Walmart earned a REBRAND 100 Global Award of Distinction and is Forbes' top retail public company (earned $408.21 billion £291.32 billion in sales). Today, Walmart ranks #17 on Forbes' World's Biggest Public Companies.
How To Rebrand Without Losing Your Customers
The key to a successful rebrand is knowing how to create a strong brand that will resonate with your customers and prompt them to buy from you.
Do your research
When rebranding, make sure that you understand your customers and market better than your competitors. By not skimping on research time, you will have a clear idea of what is at stake and the scope of work that needs to be done. Conduct a thorough research of the following:
Your current brand assets
The needs and wants of your customers
What your employees think of your business and your brand
How your current customers perceive your company
What your lost prospects think of your brandYour competitors' products and servicesHow the public perceives your competitors
Get your team's input and support
Agreeing on a new brand and vision gets complicated when there are a lot of stakeholders involved. For one, varying opinions and politics can get in the way of coming up with an effective brand. This, however, does not mean that you should rebrand in a vacuum. Stakeholders' opinions should still be taken into consideration.
To facilitate this properly and ensure their support, get them to start participating early on in the process. Communication is key from the outset to the close of your rebrand, ensure everyone involved is on board with the following:
Timeline, budget, key objectives, and changes in competitive positioning
Hard data behind every decision that you make
The implications for their respective departments
Find the balance between asking for their input and turning the campaign into a democratic process. You don't want too many people influencing the final brand, which could then lead into a watered down version of your original proposal.
Set clear goals
Without clear goals in place from the beginning, you will end up with a brand that will confuse your customers. Worse, you may need to rebrand again in the near future.
Whether you are creating a new logo, tagline, value proposition, or mission statement, ask yourself the following questions:
What does your new brand mean?
Does the new brand accurately reflect your company's values?
Will the new brand stand the test of time?
Does it communicate who you are as a company?
Put a process in place for the campaign rollout
Coming up with your new branding is half of the equation; you need to make sure that you can execute and maintain it.
To achieve this, make sure that you have these in your process:
Support materials – These materials will make sure your new branding stays consistent. Create a style guide or an FAQ document that will serve as the manual for the current rollout and future campaigns.
Internal PR campaigns – Get your employees excited by sending them videos and emails announcing the change, so they can also be brand advocates.
External PR campaigns – Get your new brand featured on social media and various publications. Send newsletters to your customer lists and feature rich media assets on your website and social platforms.
Launch parties – Invite employees, the company's Board, clients, the press, and your community into a launch party where they will be the first to get to know your new brand. You can add a few exclusive souvenirs to give them more incentive to attend. Invite employees, the company's Board, clients, the press, and your community into a launch party where they will be the first to get to know your new brand. You can add a few exclusive souvenirs to give them more incentive to attend.
Social media promotions – Utilize your social platforms effectively, as this is a cost-effective way to get the word out. Announce big changes in advance to create hype around the rebranding. Make sure that all online marketing paraphernalia follow your style guide.
Pro tip: Document every step of the way. Having proper documentation can help you go back and find out where you went wrong should something go awry. Or, act as a roadmap for future rebrands.
Stay consistent
The most critical component of your rebranding is after the launch. Consider this as the litmus test of your new brand's effectiveness: people may welcome it with open arms or they may be less than receptive. Continue to promote and share on social media to increase brand awareness. You should also send newsletters a few days after the launch to remind people of your new brand.
After the launch, consistency is key. Make sure your social accounts are active and that you send newsletters at regular intervals. Send out more pitches to different publications for publicity. Keep to your style guide – from your social promotions, website, to your printed materials – until your new brand sticks.
Create Value
Whilst you're promoting your brand across social media and through various PR campaigns, encourage existing and new customers to engage with your brand through giveaways and competitions. Not only will this increase social engagement, and therefore digital visibility, but it will create positive associations with your new brand in the minds of your customers.
We've already talked about the benefits of promotional for brand awareness, but giving away merchandise like promotional bags as part as your larger marketing campaigns can engender goodwill towards the change, as well as providing you with some free – and effective – advertising whilst you're at it.
Moreover, if your customers are seen to use your promotional bags whilst out and about, they act as brand advocates. Word of mouth and micro-influencer marketing are increasingly successful methods of lead generation. By customers wearing your new branding, they are building an implicit sense of trust in potential customers who spot them. For tips on creating the perfect promotional bag for your brand, check out our round-up of the best bags for your brand here.
Take The Risk, But Be Smart About It
Running a business is a series of taking risks, and rebranding is no different. As with everything, change may not always be welcome. Your current customers may meet your brand overhaul with resistance. However, when done properly, it will help you keep up with evolving markets, improve public perception, and increase your sales.
To talk more about how we can help realise your rebranding, call us on +44 (0)1225 66 79 79, or US freephone (0)8666158187, or contact us here.